At Manac, the Production Technology Department for performing trial manufacture (including sample synthesis) is set up between the Research and Development Department and the Manufacturing Department. We have realized speed and securement of quality and safety from R&D to mass production and have constructed a high-mix low-volume type production system to perform highly competitive product making.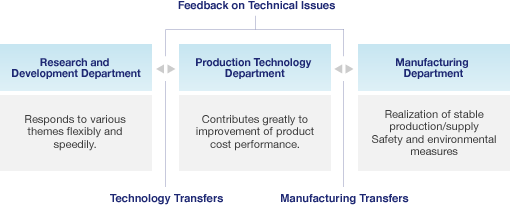 Features of the Production System

No less than 90% of the reactors are GL (glass-lined) reactors in order to take first priority on bromination and acidic substance applications.
Manac owns a large number (approximately 47) of reactors of 2000 L capacity or less to speed up accommodations from bench scale production to low quantity trial manufacture.
Some reactors are provided with special functions.
GL reactor controlled under -70°C.
GL reactor for hydrogenation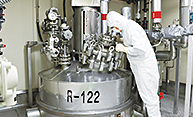 Manac is fully furnished with GMP-approved plants and warehouses dedicated to pharmaceutical products. Needs for global standard quality are answered with a total GMP management system from our proposition of higher order compounds making full use of our synthesis, process, and analysis technologies for final refining, drying, and packing processes.
High-Mix Low-Volume Production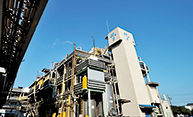 Manac employs a multiple plant system that handles diverse chemical syntheses in order to establish a production framework of a wide range. The flexible production equipment and the high technical skills of operators enable high-mix low-volume production and realize products of high cost performance.

In consideration of changes in reaction speed due to temperature and catalysts, processes are examined from various angles and trial manufacture is performed after ensuring safety. A risk prediction meeting is held in the trial manufacture process. A production framework is furnished to perform stable supply in consideration of safety.