Overseas markets are the key to growth of Manac in near future. In particular, the sales destinations for pharmaceuticals, electronic materials, and flame retardants are globally spreading not only Europe and America but also China and the Asia rising nations, etc. Manac shall keep on challenging to achieve harmony of its high technological strengths in bromination and iodination with the overseas market.
Optimal strategies are respectively deployed in the European and American markets and the Asian ones.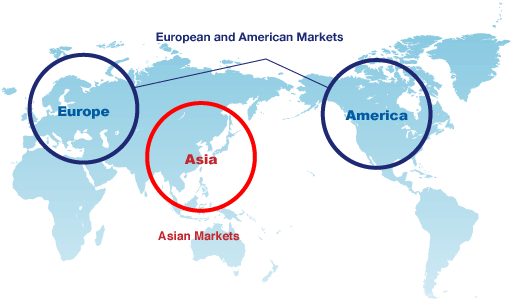 The technology of Fukuyama which sprung from the Seto Inland Sea is evolving and expanding to all over the world.
We provide the valuable products required by society.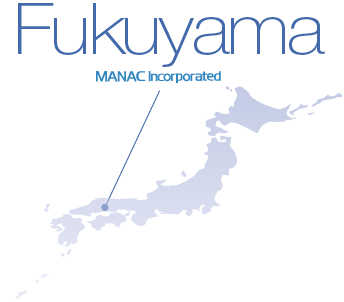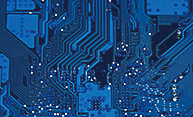 China and the rising nations called the workshops of the world are potential candidates for market expansion in the fields of electronic materials and pharmaceuticals. Especially in regard to bromine compounds, there are adequate opportunities for cultivation by Manac's high competitive cost.
European and American Markets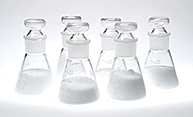 The European and American markets where the world's megapharmas gather are very attractive to Manac, which lays its stress on the pharmaceutical field. Manac is proceeding with customer information collection and cultivation through marketing in linkage with local affiliates.


Manac's strategy is to propose and develop high value-added products in niche markets that are not engaged by major manufacturers. This policy being deployed domestically shall be expanded as a global policy with the target set on research divisions of overseas pharmaceutical and electronic material manufacturers to deploy marketing with our accumulated bromination and iodination technologies and proposal strengths.
Accommodation of Global Standards
Starting with the global rule of indicating GHS labels, Manac is promoting control of chemical substances in accordance with the ELV directive, RoHS directive, REACH regulation, etc. and is meanwhile steadily building up a production management system in view of adherence to GMP and accommodating PIC/S. From early on, Manac has been aiming at international harmonization and shall make efforts toward the globalization of various standards.